ugh. i do love the snow, but it's so hard to shovel, i tried to shovel my whole driveway and couldn't even do that.
yesterday was a good day, i watched some entourage (ok, i admit...i am a bit obsessed now) and did some cleaning and then went to get some groceries. i made some yummy taco's for dinner! i had a ringetete game at 7:30 in whitby. we didn't win which was a bummer, but the other team had twice as many players as we did, it's so tiring ahhh. i got a hat trick though, pretty sick!
when i got home from my game, i attempted to watch the leafs but they sucked so hard i couldn't bare to watch the end. that 1st round draft pick is looking better and better each game. (fingers crossed for tavares!)
today has been productive so far. i shovelled (kinda), and now i am cleaning out my dresser (life). i have SO many letters and drawings from friends, and kids from the ship - so i decided i am going to put them all into a scrapbook! how cute will that be?
so, i picked the template for my business cards! they are adorableeee (of course) and i just need to finalize what i will have written on them. perffffect, i am excited! i will be sure to post them on here once they are ready!
tonight i am going out for dinner with jenna and carly, and i am very much looking forward to it!
oooh & look, i made this... isn't it cuuuuute? ;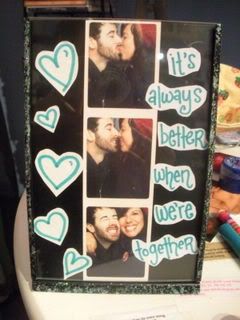 but for now, i must get to work my sugarplum's. leave some love :)
& how could i forget?
CUPCAKE OF THE DAY ♥
omfg. isn't this just TOO cute? i am sucker for anything with a little smiley face on it, especially a cupcakkkke with a smiley face! i bought a little clutch like this from target a while ago, and i think i may add a little cupcake similar to this on it. it's just perfect. cutest everrr.